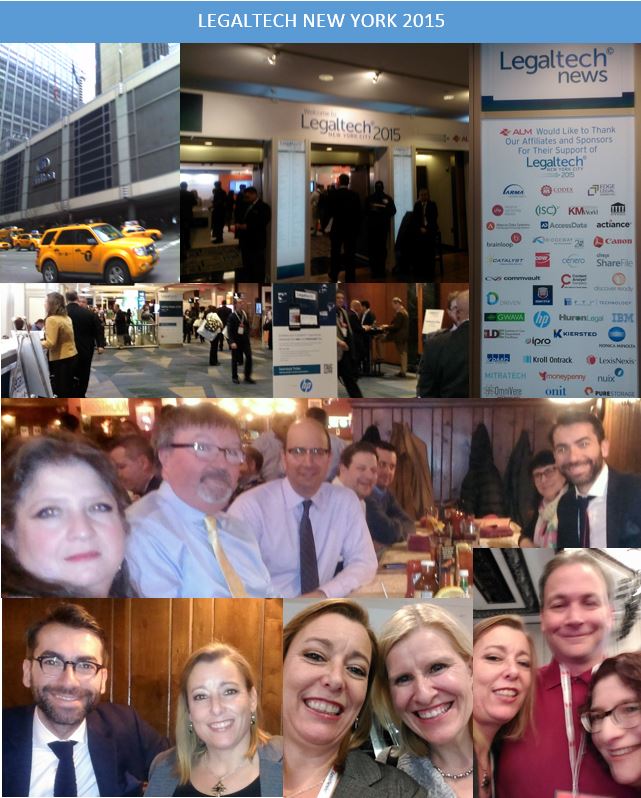 As a professional who has worked virtually for over a decade, when the opportunity to meet with people in real life presents itself – I grab on with both hands!  I am definitely what you would call a "people" person. I like nothing more than to sit down, in a relatively quiet space (with a beverage) and really get to know the attorneys, law firm IT guys (and gals), the administrators and all those IN the trenches getting the day to day work of law firms out the door.
I also attend trade shows like LNTY and ABA TechShow to meet with those who offer services and technology they say helps attorneys, law firm IT peeps and the firm – to literally confirm that they are not clueless when it comes to the basics of having access to attorney-client work product. Believe you me, there are a ton of them out there who think of legal as nothing other than a different "vertical" and are certain attorneys are clueless and have deep pockets.
Finally, I also like to check out the swag – having produced a report on the funky and fun stuff going on so those who follow me get a good taste of the show I am at. Some of my past LTNY escapades are captured here, here, here, and all the tweets from 2013 here. I was not able to attend 2014 because of the weather and almost didn't make it this year either!
That said, LTNY 2015 was quite a trip!
For many years I have arranged a lunch and Expo Tour and this year was no different.  The choice of restaurant was new – Virgil's BBQ  <– cuz who doesn't LOVE good BBQ right in the heart of Times Square?! The lunch was delish and certainly not overpriced plus the atmosphere was perfect for our large gathering, which included, another non attorney: David Roden, and NYC area attorneys: Laura Mann, Andrew Barovick, Justin Meyer, Trippe Fried, Karel Karpe and Daniel Gershburg. After feasting on BBQ – we walked the 10 blocks to the Hilton en masse and through the crowd of Elmos in Times Square and got ready to tour the Expo Hall.
Although my swag gathering efforts were hampered this year due to an unforeseen "business opportunity" and apologies again to my cohorts in swagging: Laura Mann, Justin Meyer, Trippe Fried and Karel Karpe for my not hanging with you and having more fun, I was still able to gather some of the best swag being offered, including: 
@
Payne_Group
 multi dongle connector; a really nice pen by BoardVantage; rubber gavel stress reliever by Legal Workspace; and a teeny tiny speaker with tremendous volume and sound by iDiscovery Solutions. Missing from the pix is the Perfect Law lion stuffed animal -which I gave to @
Justin_meyer
to give to his baby boy and the daegis duck which I received via Fed Ex after the pix was taken <-Thanks James!!!!
Wrapping it all up, it is always a lot of fun running into New York City and meeting up with people I normally only interact with online (Hi Bob!); and I truly spent most of the day enjoying myself and the entire LTNY experience in 2015.
For those who care to join me next year – LTNY is back in the cold bleak winter of 2016 – mark your calendars now February 2-4, 2016 at the Hilton. The Legal Connection sponsored LTNY Lunch AND Expo Tour will be on Wednesday, February 3rd and I'll post a link for registration as the year draws to a close.