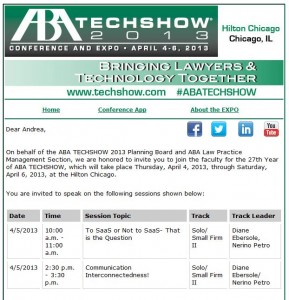 I just accepted a speaking invitation to the American Bar Association's Law Practice Management Section's legal trade show held each spring in Chicago.  I have attended this show for years and consider by far the best legal trade show/technical educational opportunity for anyone related to the practice of law.  Not only do you get to learn a great deal about technology and how to actually use it through the formal presentations, but the people and after hour gatherings are just a perfect mix for gaining otherwise unknown insights into almost every facet of running a successful practice.
I will be speaking on To SaaS or Not SaaS – That is the Question; and Communications Interconnectedness! and both of my sessions fall on Friday, April 5, 2013.
If you are interested in legal technology (or meeting me) and you're in Chicago in April – consider coming to ABATechShow.  Along with being a speaker – I also put together groups for the discounted SuperPass (10 people get in at $500 each).  By far, SuperPass is the least expensive way in.  If you would like to find out more, or get in the next group, send an email to techshow @legaltypist .com.
Many thanks to the TechShow Board for their faith in my abilities to deliver a quality presentation.  I look forward to the challenge and to putting my ToastMaters training to good use!