LegalTech NY 2012 dubbed with the generic hashtag #LTNY and held at the New York Hilton around this time each year, arrived without any ice or other storms –  so a bonus over last year's Ice-A-Palooza that engulfed much of the Eastern US.
This year, I was thrilled be able to drive in to mix and mingle with other legal geeks – meeting and making new friends – to see the Exhibit Hall and what was new on the horizon in the legal tech world.
Unfortunately, Day 1 didn't start out well – a stalled Jeep in the left lane of the LIE on the way in made me miss the ONE session I really wanted to attend – Brett Burney's iLove iPads session. Luckily, I was able to catch up with him later in the day by the coffee station and again at the Kroll OnTrack sponsored happy hour where we got to talk over a beer.  I cannot recommend Brett highly enough if you are a larger firm IT admin struggling with the addition of iPads to the firm's tech arsenal or you are solo who really wants to understand what it can do for your productivity.  Brett's no fanboy – he just really understands this tech and how it applies to a lawyer getting work done.
The Exhibit Hall was a bit disappointing this year. 🙁  Really not as much creativity in the exhibits as in past years – no safari rides, mimes or famous people impersonators to be seen anywhere.
Even the swag seemed less creative – with most vendors putting a out a cheap bowl of candy.  Of course, it got eaten – I noticed much of the time by those manning the booths.
The one stand out give away this year has to be the Chuck Norris t-shirt from the minds of shift: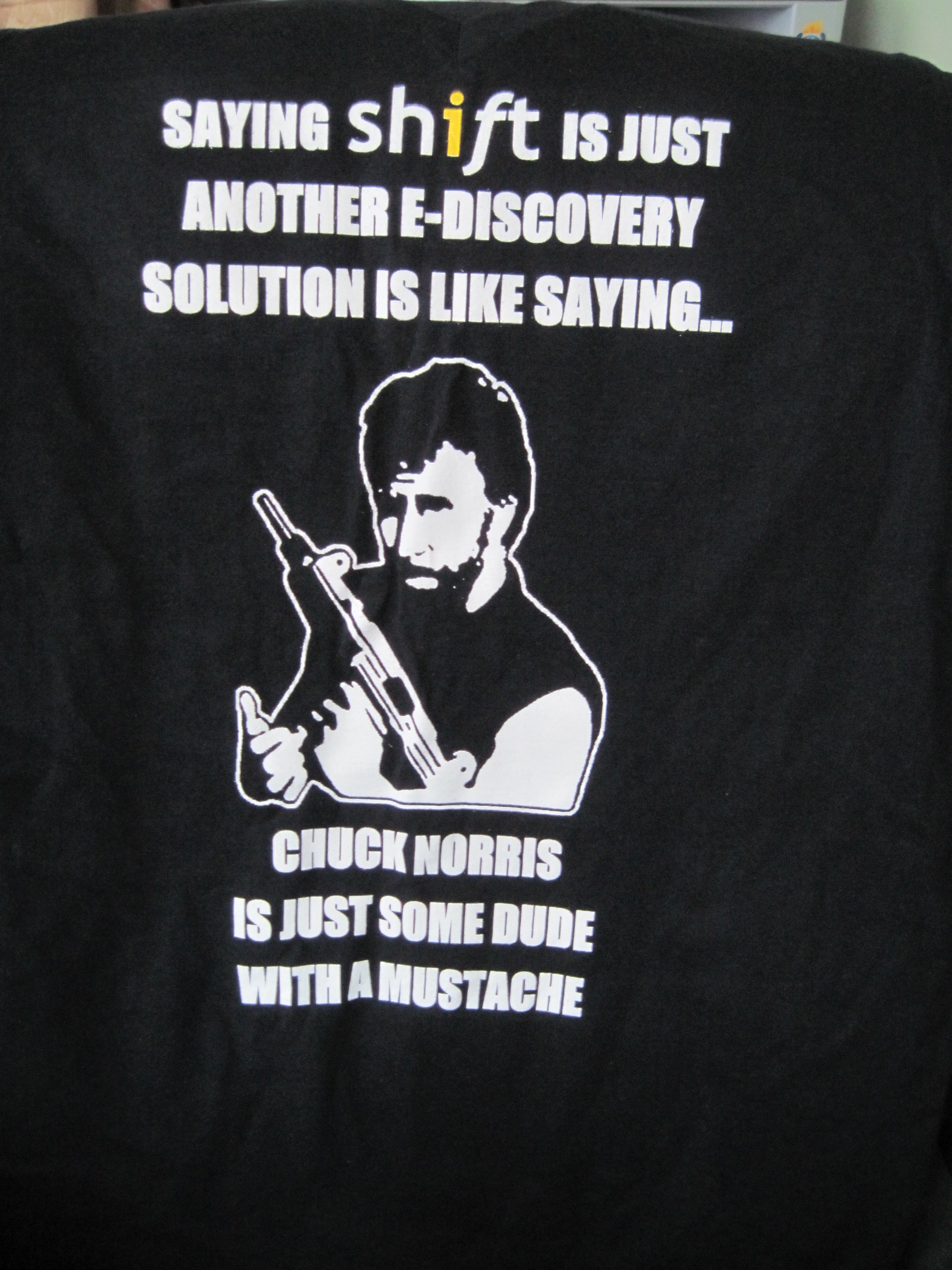 … and after speaking with the Rob Reid – Channel Partner to shift – I was THRILLED to learn they have a web based, cost contained e-discovery solution which is perfect for solo/small firms.  So if you are part of a smaller firm dealing with the exorbitant cost of ediscovery, take a peek at shift on demand.
There were some new additions to the trade show floor that I was very happy to see – LitAppsSoftware – the makers of TrialPad (for iPad).  Iit was also very nice to see NetDocuments – the web based secure filing system built for legal which I have recommended and use as Document Czar of the Solosez listserv/firm of 4000.
Over all, the feel of LegalTech NY is getting more mainstream.  In past years it has always felt very e-discovery tech oriented; but this year that seemed to fade a little bit.  The same with the educational tracks – while the majority of them are still ediscovery focused, I attended two of the three sessions for "IT" sponsored by ILTA – and found them to be chock full of just the information an IT person from a 100 attorney firm needs to know.