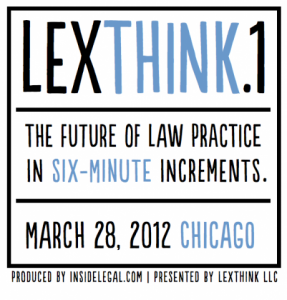 Short story:
1st  Will Hornsby
H/Ts: Steven Best, Jim Ring, Jay Sheperd
Long story:
#LexThink .1 was held on March 28, 2012 – the eve of #ABATECHSHOW at the Chicago #Hilton and was billed as 12 speakers each getting 6 minutes and 20 slides to discuss 21st Century Client Service.
In reality, LexThink .1 consisted of 11 speakers – most of whom remained on topic and provided the packed house with a fun evening.  I do have to say there was one that made me go "hrm" re: how it related to the topic – however, all and all, I enjoyed myself as much as those who were not 'working' the event.
As the speaker wrangler for the 3rd year, let me set the record straight:  Rachel Rodgers, Esq. was not able to travel to Chicago so her slot was graciously accepted by Affinity Consulting Group member Steven J. Best.   Steven wrapped up for the speakers and, in my opinion (and by audience vote tally) did a fabu job!
So which speaker was missing from the voted in line up?
Although Nicole Black, of Rochester, NY was voted in, she was recently appointed as VP of Business Development by San Diego, CA MyCase, Inc. (www.mycaseinc.com) and MyCase CEO Matt Spiegel was also voted in.  The rules state only one representative from any company, so Niki had no alternative but to drop out.  Matt's presentation was good, but I'd be lying if I said I wasn't interested in what Niki had to share.
This year's speakers also included:
#Avvo CEO, Mark Britton (who was one of my personal favorites) not just because he has great style – he literally said the last syllable as his PPT went dark and the ToastMaster in me knows that takes some serious SKILLZ;
Jay Sheperd who is always engaging; and
the wildly intelligent Jim Ring just took it to a whole other level.
In the end, it was Will Hornsby's dry sense of humor and the way he makes his slides deliver the punchline that won the hearts and votes of the audience.
Click here for a more in depth look at who spoke of what and keep an eye on your RSS feed as I will shortly be posting links to each speaker's video so you can see for yourself and c'mon back and let me know who your favorite is and why.