Voting Opens for #IgniteLaw
IgniteLaw is the brain child of Matt Homann and is being held Sunday, April 10 at about 7:30 pm at the Chicago Hilton.
25 submissions are vying for 12 slots:  http://ow.ly/4g4Cp
Winners will present their perspective on the future of law for all of 6 minutes.  There's some pretty interesting suggested topics this year.  Here's a link to last year's presentations: IgniteLaw2010 <-my favs were Tom Mighell, Ernie Svenson, Ed Adams and Ari Kaplan was pretty animated.
FYI, although I had a blast at last year's IngiteLaw, I am unable to attend this year.  No worries, I'll be with you all virtually and relying on Gwynne's twitter stream to keep me posted on the funny stuff that goes on til I get there Monday morning!
If you want to vote on who's talk gets in this year, navigate to the site here, click on the title of the presentation you wish to vote for, then click on stars at bottom of that entry.
Best of luck to everyone!  Full Agenda posted March 23.
***
Is Google Docs Practical In A Law Practice

Sam Glover over at the Lawyerist made some pretty bold statements this past week regarding "legal" and the use of Google Docs for collaborating.  Since we all know I think lawyers and their work product belong any where BUT Google, I had no choice but to comment.
I concluded that you can enjoy the Lawyerist for many things – but certainly do NOT use it as a resource on how to use technology in your law practice!
I'd like to add BIG smootches to Donna Seyle – for her comments and especially those she elicited on the issue – here's a screen shot of what Sam's suite mate had to say: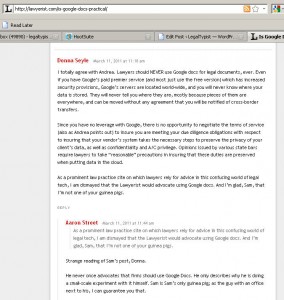 You can comment and view the entire discussion here: http://ow.ly/4hovW FYI, there are 2 pages of comments – you have to click the red link on the bottom right to get to the the second page.
***
Steveodonnell.com now with fewer penises
I bet that title caught your attention!  (and it's true too!)
Long time twitter/Solosez/attorney bud, Steve O'Donnell (who practices intellectual property, trademark and such law from his native PA) had long been vexed by the fact that the domain of his name was, in fact, in use by a gay porn star.
Steve handled what really could have been an embarrassing/touchy wrong first impression/talk with those who went to the wrong site very well, IMO, and in the end used his good judgment to frugally become owner of his name's domain.
In his own words:
I set up a reminder to check the registration each year to see if it lapsed. This year it did. I caught it when it was still in it's early redemption period. I looked into drop catchers, but those services seemed kinda problematic and expensive, so I just emailed the Admin and offered to pay him $50 + the cost of renewing for a year if he renewed and transferred the domain to me. He accepted my offer. Couple weeks later for finalizing payment and getting the registrars to move it–and I'm the proud owner (leaser, renter, whatever) of http://www.steveodonnell.com

Right now it's just forwarding to my main business address. I probably won't move my business site to that domain since there is a fair chance that it's on a blacklist or two, but I'll think of something to do with it–something involving fewer erect penises, probably.
Congrats Steve and keep up the good work like this short funny movie: Are My Tweets Copyrighted?
***
LegalTypist SuperPass Group No. 3 Is Up to 3

So far we have 3 takers for ABA SuperPass Group 3!  SuperPass attendees get all of ABA Techshow (educational sessions; networking and Jubilee Reception) for less than $500.  ABA Membership is not required.  If you'd like to be added to the list, or find out more details, send an email to techshow at legaltypist.com
***
More From LegalTypist and the Cloud
All this talk about the cloud had me take a look for my own thoughts on the topic.
Here's a link to an article I wrote in my ezine about the "cloud" (10/2009): Computing and the Cloud http://ow.ly/4gpxm
Here's a blog post with the 7 Questions For Any Cloud Based Service: https://lawfirmsolutions.com/?p=1846
I have been using and testing "legal" technology since 2001.  Those that do what they say, pass my security tests and are end user friendly – they get added to the list of resources I recommend.
I point this out just so you know I'm not just a single professional playing with free tech during down time.  I run a company that completes the day to day work of 100's of US based attorneys.  All this "stuff" gets done because of the tech, people and processes I have put in place over the past 10 years.
***
Does LegalTypist Use Google At All?

Yes. I use Google for ONLY two things and both of the processes are not meant to be secure or private.
I use gmail for list servs (like the ABA's Solosez), Google Alerts, and when I sign up for ezines and things not work or client related. I keep ALL of this away from my business domain email account – and therefore out of my "business radar", not clogging the biz stream and not costing me administration time moving, junking and what-noting it all.
The other thing I use Google for is my public "legal" calendar of events:  http://tinyurl.com/TLCxnCal Which I share all the time with my peeps on twitter and hope they share with their peeps.  If you have suggestions for events of interest to list, email the details to legaltypist@gmail.com. TIA!
***
Friday Fun!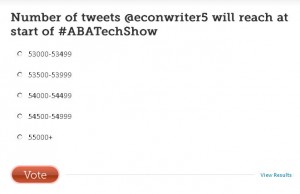 If you like this post, please let me know!  Tweet it, share it, comment below… it's all good! Now I'm off to order pizza/heros (for the family); crack a cold one (for me) and try to figure which sessions I'm going to attend and tweet about when at #Techshow