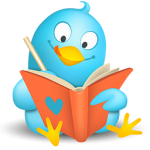 In September of 2008, Adrian Lurssen, Co-Founder of JDSupra published: "145 Lawyers (and Legal Professionals) To Follow On Twitter" a list which very soon thereafter blossomed to over 750 accounts for people to check out.
While that was a great resource at the time, more recently I noted that 100's of the accounts on it were no longer active – making the list more of a time suck than resource for those looking for people to follow on twitter.
So I asked my assistant, Delilah, to cull through Adrian's list and provide me with a list of only those accounts that are still active.  Here is what she compiled, along with a few of my own peeps:
If you would like to be added, connect with me on twitter (@LegalTypist) or leave a comment and I will check you out.
AND if you like this list, I have also compiled the lists of faculty and attendees of Techshow and LTNY for years, and I have a public twitter list which contains many of the members of the  Solosez list serv.